Low carb desserts: how to make keto brownie

The weekend is coming and after a long week of work, it's time to treat yourself, a sweet treat. But are you on the keto diet and run out of ideas for an easy keto dessert? Don't worry, we have just what you need. If you are one of those who are crazy about chocolate, we have for you a delicious keto brownie recipe that, in addition, will take very little time to prepare.

 
Recipe for a keto brownie
Ingredients:
322 g of butter or coconut oil.
130 g of cocoa powder (greater than 75% purity and without added sugar).
4 XL eggs.
150 g of chopped date or powdered sweetener.
133 g of almond flour.
100 g of chopped hazelnuts.
100 g of chopped chocolate (purity over 75%, without added sugar).
Elaboration:
We start off by preheating the oven to 200ºC so that it is ready to use once the mixture is finished.
Whisk the eggs until the texture is fluffy. You can do it manually with rods or with a mixer. If you are going to use sweetener to sweeten it, add it little by little while you beat the eggs so that it integrates well. Stevia, erythritol, or allulose are good keto-friendly options if you're not a fan of dates.
Whisk the butter until smooth. You can do it manually with rods or with a mixer. If you prefer to use coconut oil be sure to melt it without actually heating it, so you can work better with it.
Mix the dates well with the butter or coconut oil using a spatula.
Add the cocoa powder and mix well until the resulting paste has a homogeneous color. This way, you will know that the cocoa has been completely integrated into the mixture. Remember that the cocoa must be of a purity greater than 75%. If you want to add a moister touch to your keto brownie, add a few pieces of our delicious low carb dark chocolate with Keto Protein to the batter.
Add the beaten eggs and mix little by little with a spatula to make sure they are fully integrated into the main mixture. Do it little by little, 3 or 4 times, that way you will get a much creamier texture.
Incorporate the almond flour, mixing it with a spatula, to ensure that it integrates into the dough without forming lumps and thus obtain a uniform texture.
Add the chocolate and the chopped hazelnuts to the mixture and mix them with the dough so that the pieces are well distributed.
Grease a baking dish with butter or coconut oil and dump the brownie batter. Distribute it well throughout the mold so as not to leave holes and flatten the surface so that it is even.
Bake the keto brownie for around 20 minutes at 200ºC. After that, check if your brownie is done by poking it with a toothpick or the tip of a knife. If it comes out slightly stained, you have a delicious brownie waiting for you to enjoy.
Now is the time to indulge with your keto dessert. But please, before you sink your teeth in, make sure you let it cool enough.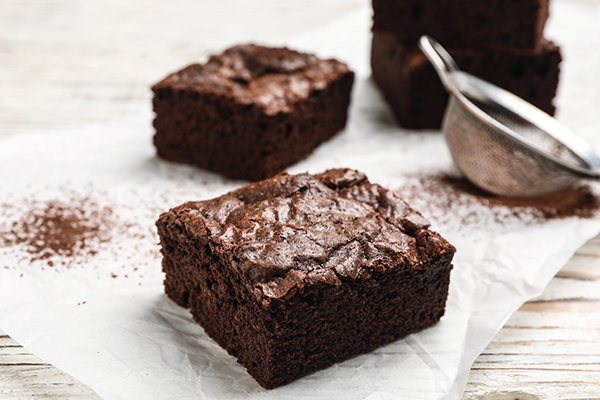 A keto chocolate dessert to enjoy
It might seem like a no-brainer, but you should never forget to enjoy dessert, and even less so when it fits your keto diet as perfectly as this keto brownie. If you want to sweeten your keto dessert a bit, add these Keto Protein treats to it.
Following a diet requires commitment and perseverance, but with sweet treats as appelaing as this one, it is much easier.
Are you ready to make your weekend a little sweeter?