KETO PIZZA RECIPES

We all have a favourite food. That one food that makes you salivate every time you think of it. Most likely, it is one of those that you usually say goodbye to every time you "get serious about your diet" or want to "eat healthy". However, there are alternatives so that we don't have to give up indulging every now and then. Don't you believe it?

Let's say your favourite is pizza. But of course, you're on the keto diet and it has too many carbohydrates, so you give it up and say goodbye to it…. Well, you don't really have to miss your pizza and movie nights with these keto pizzas: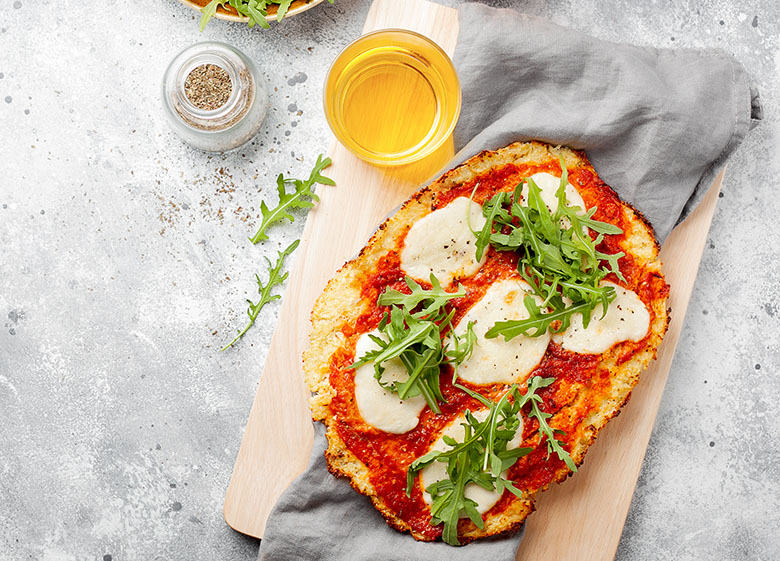 Keto chicken pizza
Yes, it's a pizza suitable for the ketogenic diet whose base is made with… of course, chicken! And as complicated as it may sound, the recipe for this base is really easy to follow:
Ingredients:
300 grams of chicken breast.
1 egg.
Extra virgin olive oil.
Salt.
Steps:
Cut the chicken into small pieces and whisk it alongisde the egg and a little salt until you get a dough.
Put a little oil on a non-stick baking sheet (or covered with baking paper) and spread the dough to shape.
Bake at a medium temperature until the base is well cooked and you can add the ingredients you want to finish it off.
Cauliflower keto pizza
Did you know that cauliflower can become one of your best friends and allies in your keto diet? And you can even make an amazing pizza dough with it!
Ingredients:
1 small cauliflower.
1 egg.
150 grams of grated mozzarella cheese.
Salt.
How to use:
Clean the cauliflower, remove the stalks and grate it. While you do this, preheat the oven to 180ºC.
Place the grated cauliflower in a bowl and cook for 8 minutes at maximum power in the microwave.
Once cooked, take it out and add the egg, a little salt and the grated mozzarella cheese. Mix well to form a dough.
Spread it on baking paper and shape it as you like. Place in the oven and bake until golden brown. Then just add your favourite toppings.
Vegan keto pizza
No, don't think that by being vegan and following the keto diet you are going to be left without pizza, because there is also an alternative to make a vegan keto pizza.
Ingredients:
140 grams of chickpea flour.
200 grams of water.
15 ml oil.
Salt.
Herbs and pepper to taste.
How to cook:
Preheat the oven to 220ºC.
Place the flour, salt, pepper and herbs in a bowl and gradually add the oil and water until you have a homogeneous dough.
Leave the dough to rest for about 30 minutes, covered.
Then spread the dough on a tray until it has the desired shape and bake it in the oven until golden brown. Then just add the ingredients of your choice.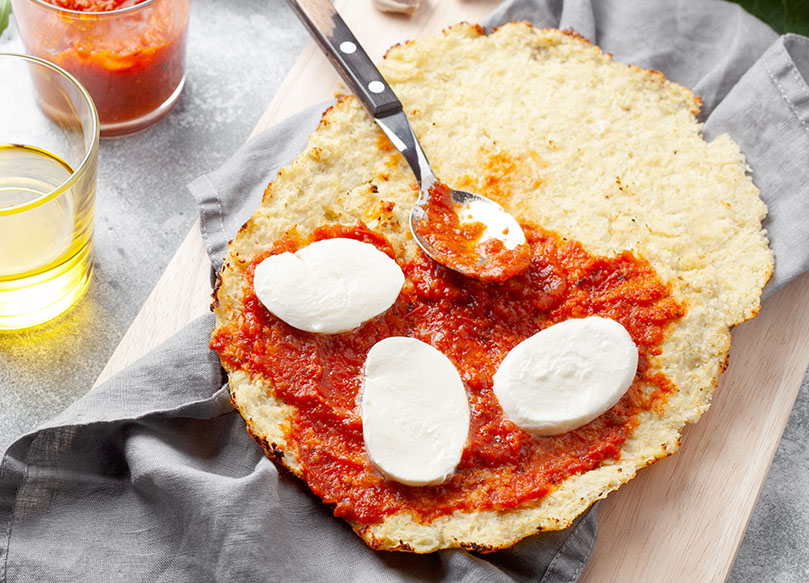 One-step keto pizza
Although the recipes we've suggested are easy, we know that you don't always have the time, but you do have the same desire for pizza. That's why you can always resort to ready-made pizza doughs suitable for both keto dieters and vegans, such as the Low Carb KETO PROTEIN pizza base from BestDiet Sport.
Following a diet doesn't always have to mean giving up what you like the most. Treat yourself, enjoy your pizza and continue with your keto diet without worrying about anything else.